Within a leafy compound on the outskirts of Bangkok, behind a pair of old iron gates, lie the workshops and studio of Alexander Lamont. In this single location Alexander Lamont has brought together a rarefied and all but extinct group of decorative materials and craft skills that through his contemporary design sensibility, combine to make the pieces in his collections.

The workshops house ateliers for shagreen, straw marquetry, parchment, natural lacquer, gesso, gilt leaf and bronze. Alexander Lamont brought world experts over from Europe to train his teams of artisans in these materials. He also travels to China regularly to work closely with Peking Glass kilns and small rock crystal producers to create his unique designs using these materials.

For Alexander Lamont, the exploration and innovation of materials is a powerful force that drives the creative direction of his company. To take something rare and beautiful that has been used for centuries, to push it a little bit further, and to bring it into the present are the challenges that Alexander Lamont seeks and thrives upon.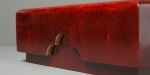 Bronze
One of the first craftsmen that Alex worked with in Thailand was a bronze caster from Chiangmai, a master of the lost wax method traditionally used for Buddha sculptures: a model is made in wax then covered with clay, dried and heated. The wax melts and pours out or "is lost" through flues, leaving a cavity the same as the original wax. Together Alex and the bronze caster made the first piece: a bronze bowl encrusted with the coils that cover the head of the Buddha. As Alex recounts, "there was something monumental and primordial about the mass of bronze that flowed to make this vessel".

At Alexander Lamont we work in both bronze and brass depending on the item. They are different because of the relatively higher copper content in bronze. This makes bronze slightly softer and a tone darker than brass. However, brass is often preferred due to its strength and the ability to create thinner, lighter pieces.

As part of the finishing process, we apply various patinas to our brass/bronze products in order to achieve the desired colour and finish. In 2013 the British bronze artist, Michael Talbot, came to our workshops to train our bronze patination artisans. He helped us with refining and improving the range of bronze finishes that we apply to our bronze pieces of furniture, sculpture, lighting and accessories. Michael has also been working with us to develop new patination processes and finishes that are innovative in terms of design and hard-wearing and durable in terms of quality.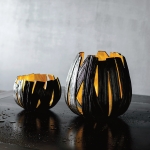 Gesso
Traditionally a substrate applied to a base material to achieve a smooth surface for the application of paint or other materials, gesso or "Italian gesso" has been an important material in traditional European arts.

Made by combining gypsum powder and hide glue, the gesso is applied hot in multiple layers then sanded between each layer to achieve a perfectly smooth material base that supports various hand-applied finishes including water-gilding, natural lacquer and cracked wax polished surfaces.

At Alexander Lamont we use gesso to achieve certain finishing effects upon which lacquer or pigment or wax is then applied. Through various techniques we achieve innovative effects such as "craquelure" that resonate of antique crackled tusk or smoldering embers.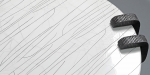 Gilt Leaf
At Alexander Lamont we use pure gold and silver leaf for gilding. The gold is hammered by hand in Thailand. The leaves are then prepared on a vellum pad, cut by gilding knives and lifted by special brushes before being applied by hand onto a lacquer, shagreen or bronze surface. The translucency of precious metal leaf means that to achieve a shiny result, the surface must be perfectly smooth and polished. Gold and silver leaf are extremely thin but will last many years if not rubbed or touched excessively.

Gold tarnishes slightly over time while silver oxidizes faster. At Alexander Lamont we believe that tarnishing is a beautiful aspect of real gold and silver that does not occur on faux metals and that it should be regarded as part of the metal's ageing and natural patination process.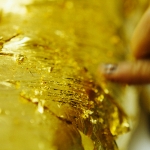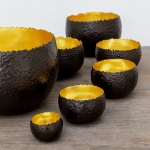 Lacquer
Liquid, dark, smokey, polished, lacquer is a monastic material demanding patience and deliberation. Lacquer is a natural material extracted from trees and seeds. Thailand has an ideal climate for natural lacquer as humidity and heat is required for the curing process.

Our lacquer artisans received their training from Frenchman Eric Stocker, a master of natural lacquer and of the traditional methods used by the Paris-based designers Jean Dunand and Eileen Gray in the 1920's.

The presence of other rare craft skills in the one location has enabled our lacquer workshops to create unique finishes blending the materials of Europe and Asia for the first time. The layering of panels of stingray skin with coats of cinnabar lacquer creates the signature "Opium Lacquer" and applying lacquer over layers of straw creates the sublime "Lacquered Straw" finish.

We also make eggshell lacquer whereby small pieces of chicken or duck shell are cracked carefully using pins so that the pieces fit like a jigsaw across the surface. The finished surface may then be lacquered with a cashew lacquer to give a deep rouge tone and accentuate the pattern.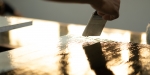 Mica
Neither a stone nor a resin, Mica belongs to a unique class of rock-forming minerals known as silicates. Mica's diaphanous, translucent and intense lustre have made it popular across a myriad of applications since antiquity. In tiny flakes, its use can be traced back to pre-historic cave dwellings and ancient pottery from the Americas. Found raw in a natural layered texture, mica can be de-laminated into thin sheets and its opacity ranges from transparent to opaque. It began to be used widely in this form by the Arts and Crafts and Art Nouveau Movements for lamp shades and lanterns. During the Art Deco period modernist designers introduced mica as a decorative material for furniture as well as lighting.

Alexander Lamont has taken this delicate, glowing material and developed two signature finishes for vertical surfaces and walls. In our mica workshop our artisans carefully select sections of mica within the desired tonal palette, composing them piece by piece into accent walls that catch the light with a captivating iridescence, and bring an air of glamour and refinement.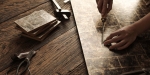 Parchment
With a surface like sheets of soft ivory, parchment became popular as a decorative finish during the 1920's when modernism demanded neutral materials that maintained a sense of luxe. Avant-garde French designers such as Jean-Michel Frank, Jean Prouvé, and André Arbus rebelled against the bourgeoisie's taste for old tapestries and dark wood, and designed clean-lined furniture upholstered in white kidskin and tables crafted of eggshell lacquer and parchment.

Parchment is a thin material made from calfskin, sheepskin or goatskin. Historically its most common use was for the pages of books or manuscripts. Vellum is the name usually used for a finer version of parchment, made from sheepskin or calfskin. Parchment or vellum is unlike leather in that it is not tanned, but stretched, scraped and dried under tension, which yields a stiff, translucent skin that requires great skill to dye and successfully apply to a wood substrate.

Alexander Lamont makes parchment furniture, lighting and objects. We have also developed printing methods that create layers of pattern over the surfaces such as the coral design on the Ocean Armoire and our newest technique, 'Suji' is hand-dyed parchment that creates a shimmering linear effect on the surface of the Mighty Table.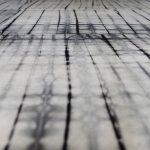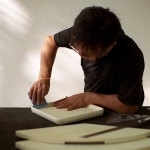 Peking Glass
The term 'Peking Glass' refers to a particular method of creating glass developed by the imperial workshops in Peking during the Qing Dynasty.

A kiln is filled with raw glass 'frit' mixed with pigment. Molten glass is repeatedly 'gathered' from the kiln on a blowpipe until a heavy 'gob' is collected. The repeated gatherings give rise to the unique rings on our glass forms. The glass must be 'annealed' (slowly cooled). The final shaping and polishing is done by hand in the old jade-cutting process of methodical grinding. This stage alone takes from two to four days for every piece.

Alexander Lamont works with kilns in Peking to create modern forms of vases and lighting elements in burnt amber, imperial yellow and white-jade colours.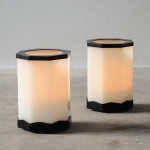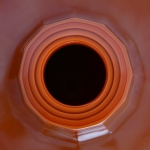 Rock Crystal
Translucent and opaque, clear and amber hued, lacey with drifting inclusions, crystals create the most evocative natural lighting. Naked flames, seen through natural cystals, with all their intrinsic imperfections and flaws, have been used as lighting elements for centuries and are one of the great materials for creating an atmosphere of old world elegance.

For our lighting collections, Alexander Lamont works with natural stone such as calcite and fluorite, rock crystal from Brazil, faux rock crystal, selenite and leaded crystal.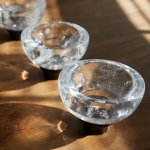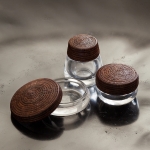 Shagreen
A texturally rich and visually intriguing material, shagreen or "galuchat" in French, shark and stingray skins were originally used by the Japanese to decorate armour and weaponry. Later, Europeans used the strong lustrous skin for precious boxes and scientific instruments. Most famously, during the Art Deco period, modernist decorators such as Jean Michel Frank and Clement Rousseau applied stingray skin to their furniture and lighting collections.

Using raw skins is a mysterious process that took our workshop almost ten years to perfect. Alexander Lamont and a small team of artisans originally received training in the art deco technique for using raw skins from the world expert on shagreen, Jean Perfettini. A restoration expert at the Musee des Arts Decoratifs in Paris, Jean trained our shagreen workshop in the painstaking techniques for thinning, cleaning, dyeing, cutting, adhering and finishing the raw skins to achieve a surface that has been described as 'a million beads of ivory'.

We use only the traditional raw stingray skins in our work because the durability is greater, the finish more tactile and the myriad natural tones far more beautiful than those of pre-dyed chromium-tanned skins, which are more commonly found in use today. In addition, our method does not involve the unpleasant polluting process for which tanned skins are notorious. While honouring the traditional technique, we have found our own ways to finish and apply shagreen giving a new character to this rare material.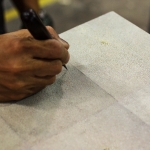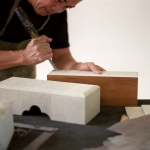 Straw Marquetry
Straw marquetry is the art of forming a decorative panel using flattened slithers of natural cured straw. The stem is split, flattened, softened and scraped or ironed into a flat ribbon. It is then inlaid edge to edge on paper or wood until the surface is covered. The process is entirely hand made and in our workshop we use only hand tools, and water-based adhesives and dyes. From the preparation of the straw into ribbons, to the dyeing process, to the choosing and inlaying of each single piece of straw onto the surface, the art of straw marquetry requires patience and a well-developed sense of colour and tone.

In 2011 Gerard Morin, an internationally known straw marquetry artist, came to help us improve our straw preparation technique, and to experiment with us in new colouring techniques. He trained our artisans in the history, traditional designs and traditional craft skills involved in straw marquetry. In addition to this he helped us to strengthen our relationships with our suppliers of straw in France.

Alexander Lamont uses straw marquetry to make beautifully detailed cabinets, mirror frames, lamp bases, boxes as well as wall paneling. The special aspect of straw is that is has a surface that reflects light uniquely and subtly.